After many years of watching races at Mercer Speedway, Russ and Marlene King in 1973 purchased their 1st race car from Sally and Grover Faulk. When they purchased the car it had a #65 on it, Sally had hoped that the number would remain. Because Russ and Marlene's second son was born in 1965 it seemed only fitting that the number would stay.

Russ Woolsey was the King's 1st driver of the 65 car and a great driver he was. Finishing 3rd in points their first year, and first in points their second year. they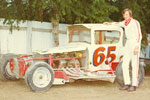 mostly ran at Mercer Raceway and Lernerville Speedway which are still in operation today. The King car was noted to be one of the most beautiful cars on the track with its wonderful red and white colors, which still hold true today with a little blue added to make a very patriotic look.

In 1976 the King family decided to add another car to the racing team. Russ W. took the new car and the old coupe went to a very experienced driver named Vic George. Vic, like Russ, did very well with the cars; his first year he won the Shaffer Qualifier. This gave him the opportunity to run the big race in New York. This race is held in Syracuse, New York and is known as the Daytona of dirt modifieds. In the feature a shackle mount broke and knocked him out of the race. In 1978 the King family came out with a new car called the Ben Cook car, Vic started to drive but his work drew him away from racing and the car sat for a short time.

In July Russell approached top late model driver Tom Jarrett to take the wheel of the 65 car. Once the bugs were worked out of the car Tom came through as a winner for the team. One night at the races there was a bad sprint car wreck. Tom, being a family man, decided it was time to retire.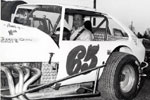 Once again the King car sat idle. There had been rumor of a guy by the name of Ted Wise wanting a ride. Russell made contact with Ted and a new driver for the King car had arrived. Multiple break downs made the 1st year for Ted and the King Team rough, but after that Ted became a real winner for the team. In 1980 the King family purchased another car and put in a driver by the name of Harold Kemery. It was his first year in a modified, but got the car around the track just fine! Ted on the other hand was leading the points at two tracks, raceway seven and expo speedway.

In 1983 Russ and Marlene's youngest son took the wheel of the 65 car at the age of 16. Rex had alot of his buddies on the race team and had some of the greatest times of his life. He had alot to learn at his young age , but one of his most admired people in his life (other than his dad) was Ed Lynch Sr. Ed was one of the few race car drivers that would take the time to give advise to Rex.

In 1985 the King family went from Tobias Chassis to a new chassis out "Troyer". the Troyer cars seem to be a huge benefit to Rex. It was a car he really felt comfortable in and it showed in his racing. Rex also met new girlfriend Sis Bates who truly enjoyed watching Rex on a weekly basis. Rex went from a rookie driver to Sharon Speedway track champion. This was a huge success for the King family and was looking forward to celebrating the championship in January at the Sharon Speedway banquet. The celebration was shortened by the passing of Rex's father, Russell had died of a heart attack on December 21, 1985. This was a huge blow to all of the King family and friends. Russell was the back bone of both the business and the racing team. Marlene and Rex decided to continue on in the memory of "Russell".
1986 was a rough year for the King team, Rex at the age of 19 was used to the advice of his dad and this was the first year he had to make decisions on his own for both the business and the racing team. Times were difficult for the family but with the help of Marlene and many close friends, the family pulled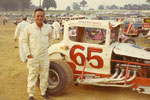 though with success.

in 1988 Rex and Sis got married and in 1989 brought the first King grandchild into the racing family. Little Russell King was here! Lil Russell was at the race track at 1 month of age and has been there ever since. In 1991 Rex and Sis had their second lil racer. Lil Rexy King was added to the king crew. In 1990 Harold Kemery came back to the King Bros. racing team , not as a driver but as a crew chief. His many years of experience that had stemmed from his childhood has been a great asset for the 65 team. For the next ten years the king bros racing team ran well with the Troyer chassis always finishing in the top ten in points and usually in the top 5.
In 1995 the King Bros racing team went in a new direction with the race cars and started racing Bicknell chassis. This was truly a great move in the right direction. In 1995 Rex picked up a second track championship at Sharon Speedway and also one at Mercer, he had always finished in the top 3 in points. This is a very large achievement considering the competative talent that runs in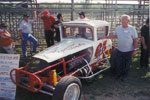 this V-8 modified class. Well every good thing must come to an end.
2002 was the end of a great run! After having two flips ( one at Sharon Speedway and one at Lernerville), and multiple "on" track situations, the King Bros. racing team was having a rough year. Falling out of the first six races with a new car was not the teams plan. Regardless we held our heads up high and finished the season. To the teams surprise we still finished in the top 10 at Sharon Speedway, tied for eighth for the BRP Modified Tour Races. Unfortunately we also picked up the hard luck award at both the Twin State Auto Racing and Sharon Speedway Banquet. This means that we were not the only ones who noticed our bad year. But we graciously accept the awards anyway.

2003 was the year that was totally up in the air! Rex's back was so bad he just couldn't stand the pain. We had put the whole racing operation up for sale. We had went to 5 different area doctor's looking for a solution. All had the same response to rex's condition, "you look like you came out of a train wreck and 50% success rate on surgery". Stan Hover Jr. had given us the heads up on a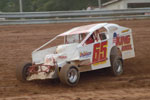 surgeon in Indiana who specialized in fixing up broken up race drivers, and that's where we were headed. We had one more Dr. to see here in Ohio. Dr. Yoo at University Hospital was amazingly optimistic, and had a 80% success rate. After doing a lil homework and finding out how respected the Dr. was, we chose to have the surgery done. As Rex came from recovery I asked how he was, I couldn't believe it when he said great and that he had no pain. Sure he had discomfort from the surgery but his pain was gone. The next morning when the nurses stood him up he stood straight for the first time in years. To make a long story short the King Team was back before it completely closed up. We purchased a 2003x Bicknell and the 1st race it ran was the ladies charity race for victim's resource inc. In june. the ladies had a great time and earned over $5100.00 for the charity. Rex took the track and was battling for the win when he and Brian Swartzlander tangled and took them both out. But it was exciting to come back on a positive note. We had a philosophy in 2003 "kiss" (keep it simple stupid). Ya know we had the best time and the racing went our way. Although we only ran a half of a season we raced at Little Valley N.Y., Eldora in Ohio and Hagerstown MD. All in all we rounded out the year with 2 feature wins and 2nd in the hard charger awards for the brp tour and also finished in the top 10 in points.

2004 took on huge changes for the King Bros. Team. Russell our oldest was taking over the seat of our second team car. With that in mind we had to invest in a larger hauler that would hold 2 to 3 cars (knowing the youngest may be racing w/in two years). The increase in expenses with a two team car we went in search of sponsors. With russell having his rookie year we wanted to invest in new racing apparel for the team and their fans. We wanted to give our fans a window to see what's happening with the team, so we had our web page professionally done. It seemed as though 2003~2004 just ran together as we purchased a 2003x Bicknell for Russ and got it stripped and powder coated and put back together. We headed to Volusia County Speedway in FL. in February so Russell could get seat time before we started the season back home. We really had a fun year racing a full season at both Tri~City, Sharon Speedway and the BRP Mod. Tour. Russell picked up a top 5 at Tri~City finishing in front of his dad, also Twin State & Tri~City rookie dirt driver of the year. Rex picked up racers for tots driver of the year and finished in the top 5 in points at both tracks and in the tour.
2005 ~ WHAT AN AMAZING YEAR! YOU WOULD HAVE NEVER GUESSED IT CONSIDERING HOW WE STARTED IN VOLUSIA FLA. AND ENDED SHORT WITH BLOWN MOTORS. ALTHOUGH WHEN REX HAD 2ND FASTEST TIME IN PRACTICE AND FINISHED 3RD IN THE OPENER WE KNEW WE WERE DIALED IN. WE HAD A GREAT FEELING ABOUT THE 2005 RACING SEASON!
WE DID THE CAR SHOW FOR TWIN STATE AND ALSO WENT TO KENDREWS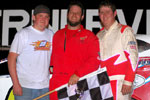 LOUNGE IN ALLIQUIPPA PA. WITH THE CARS, WHAT A WILD CREW!
RUSSELL WOULD NOW BE ABLE TO RUN AT SHARON SPEEDWAY AND A FULL BRP MOD. TOUR THIS YEAR. AT THE SHARON OPENER RUSSELL FINISHED IN FRONT OF HIS DAD IN 10TH PLACE. AT THE TRI~CITY OPENER RUSSELL FINISHED 4TH TOPPING HIS ROOKIE SEASON IN 2004, AND AT THE MODIFIED TOUR OPENER AT CENTRAL PA. SPEEDWAY HE FINISHED 7TH. CONSIDERING THE TALENT IN THE MODIFIED DIVISION THESE WERE SOLID RUNS.
WE HAVE TO APPLAUD THE KING CREW FOR A STELLAR YEAR, BECAUSE OF THE CREW NOT ONLY DID WE HAVE A BLAST ON A WEEKLY BASIS, WE HAD A VERY CONSISTENT AND FRUITFUL SEASON.
SOME OF THE YEARS HIGH LIGHTS WOULD BE GOING TO MERCER RACEWAY PARK AND BEATING TOP MODIFIED DRIVER TODD BURLEY, IT WAS A NAIL BITER. BOTH REX AND TODD HAVE GREAT APPRECIATION FOR EACH OTHER BOTH ON AND OFF THE TRACK!
RUNNING NOSE TO NOSE WITH PETE BICKNELL IN HIS HOUSE MERRITTVILLE SPEEDWAY IN CANADA. AFTER A BACK AND FORTH RACE WITH PETE LEADING THE LAST LAP, THE TWO DRIVERS SHARED A BEER, THEIR FEELINGS ON THE RACE, AND A FEW LAUGHS.
ON JUNE 18TH RUSSELL WINNING HIS 1ST SHARON SPEEDWAY FEATURE WITH DAD FINISHING SECOND, THEN DOING A DONUT FOR THE CROWD IN THE INFIELD WAS BROUGHT EVEN MORE EXCITEMENT TO THE NIGHT.
THE LADIES MODIFIED CHARITY RACE BROUGHT MORE ACTION THEN IN PREVIOUS YEARS WITH LEX SHINGLEDECKER PULLING OUT THE WIN! THE LADIES HAVE PASSED THEIR HELMETS ON TO THE E-MOD GIRLS FOR 2006 AFTER THE FOUR YEAR RUN GENERATING OVER $35,000. FOR THE VICTIM'S RESOURCES INC. ABUSE CENTER. "CONGRAT'S" TO CINDY MOORE AND THE GIRLS FOR CHANGING MANY LIVES!
RUSSELL ALSO PICKED UP HIS 1ST CAREER WIN AT TRI~CITY SPEEDWAY IN 2005, AND OF COURSE WE HAD TO PLACE A DONUT IN THE INFIELD AND CLIMB TO THE ROOF OF THE CAR AND SHARE HIS EXCITEMENT WITH THE FANS.
A BLOWN MOTOR WOULD HAVE SIDE LINED REX AND HURT US WITH THE POINTS, BUT LONG TIME FRIEND DAVE SCHRADER AND HIS FAMILY LOANED REX HIS SPARE CAR FOR THE AUG 7TH RACE @ TRI~CITY TO KEEP US IN CONTENTION FOR THE CHAMPIONSHIP. NOT ONLY ARE THEY AN AMAZING RACE TEAM BUT GREAT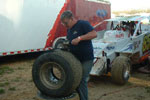 FRIENDS AS WELL!
THE RUNNING OF THE RUSS KING MEMORIAL TRANSPIRED INTO A WIN FOR US AND ALTHOUGH WE WERE NOT THE FASTEST CAR ON THE TRACK IT WAS A FINE MOMENT FOR OUR FAMILY AND LONGTIME EMPLOYEE'S WHO HAVE WAITED FOR THIS MOMENT FOR TWENTY YEARS.
REX CELEBRATED HIS 40TH BIRTHDAY IN STYLE, BY CAPTURING THE LAST MERCER BRP TOUR RACE. THE TRACK WAS FILLED WITH BIRTHDAY BALLOONS BROUGHT IN BY FAMILY & FRIENDS . THE RACE WAS IN MEMORY OF VETERAN RACER AND FRIEND JEFF HOFFMAN, WHICH MADE IT A SPECIAL NIGHT.
OUR YEAR END STATISTICS ARE:
REX:
6 FEATURE WINS
1ST IN MODIFIED TOUR POINTS
2ND SHARON SPEEDWAY POINTS
2ND TRI~CITY SPEEDWAY POINTS
2005 WALT WIMERS CAVALCADE POINTS WINNER
RACERS FOR TOTS DRIVER OF THE YEAR
TRI~CITY SPEEDWAY IRON MAN AWARD WINNER
RUSSELL:
3 FEATURE WINS
11TH IN MODIFIED TOUR POINTS
8TH IN SHARON SPEEDWAY POINTS
5TH IN TRI~CITY SPEEDWAY POINTS
2005 MODIFIED TOUR ROOKIE OF THE YEAR
2005 MOST IMPROVED DRIVER TSARC
2005 SHARON SPEEDWAY ROOKIE OF THE YEAR
2006 - THE YEAR OF THE THREE KING'S
What would be the best way to describe the Year of the 3 King's....I would have to say "NUT'S", I mean honestly how do you in this day and age put 3 cars on the track and not kill each other and still swing full time jobs and school. This would be the year that our family circle is finally complete, Rexy or better known as "Cooter" was going to take his 1st baby steps as a Rookie driver at Tri~City Speedway. The first area of business was to pick a number, and it was Rexy's choice to pick his number. Maybe #656, no that would be #65 on most score boards, maybe #565, no that would be #56 on most score boards. Rexy concluded with the number #165 considering he was named after his father and the #16 wasn't a consistent number used in our local modified series. So #165 it was, later we had no idea how well that number would fit Rexy. Rexy's 1st race was on 4-30-06 at Tri~City. I could feel my stomach turn as our youngest strapped into his new ride! I tried everything to hold back the tears so not to have Rexy see. I wanted his full concentration on his mission not his mother. There was a lot of excitement in the pit's from our crew and neighboring crews. Rexy backed out of his pit stable and Rex Sr. pulled his ride up behind him. It was like a father bear watching over his youngest cub. Then in hot laps the #65, #56 and the #165 sailed around the big 5/8 circle, it was amazing! I could see the pride of my mother in law shine across her face. This was a moment she had waited to see (33 years), and Rexy showed he had the talent to run with his brother and father.
The next big highlight was at Lernerville Speedway on May 5th, Sr. had raced there off & on over his 23 year racing career and had many good finishes, but unfortunately was unable to clinch the checkered. Sr. had done everything including flip on two occasion's but was always the "brides maid" and never the "bride". The BRP Mod Tour had brought the King crew to the tacky clay surface of Lernerville. It was quiet a battle between Sr. and western Pa star Kevin Bolland, with a caution coming out on lap 29, Sr. knew it would have to be a hero or zero move to take the win from Bolland. Sr. went high and Bolland stayed low, Sr took it right to the wall coming off turn four and took the checkered with a one car length lead over the 777 car. The crowd went crazy, and that was the big prize of the evening. Rex Sr. has always been a lil bit of a show boy and took entertaining the crowd seriously. It looked as though maybe we finally knocked that bad luck monkey off the shoulder of the King Bros. race team. From there Rex Sr. was on a roll picking up wins at Tri~City Speedway and Mercer Raceway Park , and Sharon Speedway , with his eye on a 2nd consecutive BRP Mod Tour Championship. Russell on the other hand had to settle for 2nd behind his "old man" as he worked on his driving style. Then finally at Tri ~city Speedway on May 28th Russ picked up his 1st win of the season. However, Rex Sr. the Bristolville Bandit" was unstoppable. Central Pa. was the July 3rd stop for the BRP Tour and it proved to be an exciting night for all involved, when the checkered came down it was Brian Swartzlander with Rex Sr. on his bumper and Russell waiting for the two to take each other out! It was a fabulous finish. Rexy made the show and tested the water on the dusty salad bowl. On July 13th the Tour headed to Expo speedway, this was the 1st time the track had seen auto racing since our family had promoted it in 1995. The grandstands were full with fans who had longed to see racing at the big 5/8's and also new prospects of racing. In hot lap's Russell's motor laid down on him, Cooter was the hero of the evening loaning his #165 to his older brother. By the end of the evening Sr. had grabbed the finish, but the big story was Russ who had moved 14 positions and ran out of laps. Expo was most certainly a crowd pleaser and we were surrounded by friends and family in victory lane. By the July 15th show at Sharon Speedway, Sr had padded his points lead but Brian Swartzlander was hot on his tail wanting the same bragging right's. On August 26th Russ for the second time moved from behind the shadow of his father to pick up the win at Sharon Speedway. September 1st would bring high hopes for the King Family as they prepared for the Russ King Memorial although the team had picked up the win in 2005 by default, it really didn't seem like a win and it didn't feel earned. Rex Sr. wheeled to the front as the final 14 laps were under green, Bolland finished 2nd but once again the big talk was about Russell who went from 17th position to finish 3rd. Cooter who wasn't able to participate in many of the shows due to age restrictions spun wrenches along with crew chief Johnny Zdelar and crew members Mark Bates & Don Nichols. As the Sharon Speedway season ended Swartzlander edged Sr for the Championship. The season closed by the King's trying new waters at Afton , where we didn't bring nearly enough bumper and Williams Grove where we lacked enough motor. With 15 team wins, a BRP Modified Tour points Championship, and Rex Sr listed as the top 6th Northeast winners of 2006 by the AARN. Family time from April through October it doesn't get any better than this!....or does it?