RACING
Racing is the exhilaration, the sweat, the heartache, the feeling of victory, and the pain of defeat. Racing is preparing the racecar with friends, changing tires, making last minute decisions, and the excitement that builds with each passing lap. Racing is rivals, friendships, good times, laughter, and memories that will last a life time. Racing is the agony of a bad crash, and the inspiring feeling of a well deserved win. It is the knowledge, dedication, and loyalty of pit crews and drivers. Racing is not only a sport...it is a way of life.

You become so caught up in the drama of it all, that it becomes a vital part of you. The competition takes you in, until you eat, breathe, and live racing. You love the smell of the fumes when you start up the engine for the first time after a long winter break...You love drawing up a new body design...You love working on the car in the middle of February, imagining how beautiful it will be on the track. Racing is in you...

OUR GOAL
Goal, as once stated on the Racestud Forum, and I cant word it any better...Our first objective is entertaining the fans...Giving them a show that they will talk about for weeks...One that raises their heart beat and makes them stand on their feet...Next we concentrate on our marketing partners - we want them to be proud to say they support the King Motorsport's team!

Sis King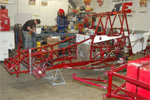 We are going through growing pains, of sorts, at King Motor Sports. In 2008 we started the late model team with Russ as the driver. With this new venture and also the changes in web design technology, we felt it was time to overhaul our web presence. This site will be updated with recent news as often as possible during the next month or so.
A completely new site is in the works and we are working as quickly as we can on the implementation. We plan on integrating recent race information as the new graphics are implemented.
Please check back for updates on the King Motor Sport's race teams during this transition. Our goal is to maintain and update this site as we implement the totally new design.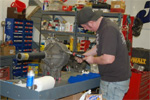 Thank you for your patience.
We'd also like to give a special thanks to JMS Pro Photo for use of their images on our website. And a special thanks to Arizona Sport Shirts for use of artwork on the site.
Thank you for your patience as we develop and publish our new web presence.